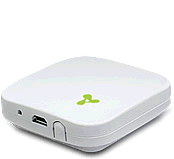 About AIBeacon
AIBeacon is the O2O service to utilize the Wi-Fi function of a smartphone.
If a user approaches to the AIBeacon device setting at various shopping malls or event sites, etc., the characteristic of the user is obtained, which enables to timely provide the effective approach with such as a push notification or a voucher, based on the user characteristic. This is truly the innovative O2O solution.



Interlocked by a digital signage




Tourist information


Timely transmission
of information

Guide for pieces on
display at a museum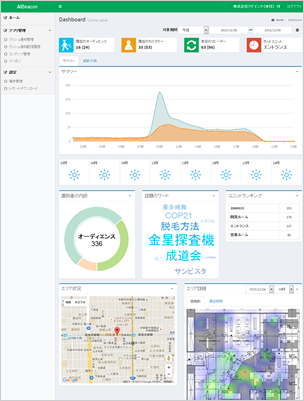 Various functions to enable
the beneficial analysis
The characteristics of smartphone users around facilities can be obtained only by setting the AIBeacon device in shops or various retail facilities.
It is capable to know "when and how many" people are contacting the place by using the attached analytical tool together.
Also, the analysis of "the number/rate of repetition" is available with the unique ID measurement. More effective approaches can be expected as the precise analysis of the user characteristics is available.
Capable of the analysis on the shop floor or selling spaces, that was difficult to be measure in the past!
The selling space can be improved to the space with a higher effect for promotion.
Due to dual-sensing with Wi-Fi and Bluetooth, AIBeacon is capable to obtain the data of smartphone users from the wide range, and measure the areas where a camera or counting by people could not cover.
With feeling as if measured on a web screen, the analysis of shop floors or selling spaces will be available.